BASIL – Ocimum Basilicum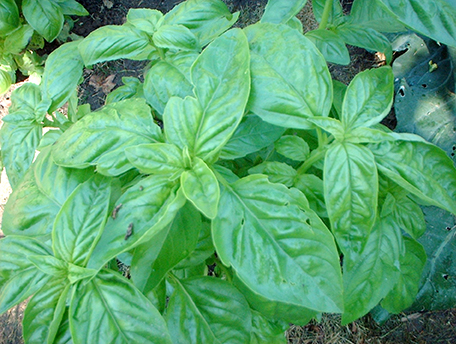 Herb of the Year 2003
Basil is an annual and one of the most popular herbs. There are at least 150 varieties around the world. Try growing several varieties so you can have more options in your cooking. Basil likes full sun (min. 5 hours), well drained soil and hot, humid weather. When we are wilting from the hot weather, the basil is thriving. In the late Spring when you plant your basil, make sure it is planted at least 18" apart. It needs room for the air to circulate so it doesn't mold.
Basil can be used in your cooking almost anywhere. Pesto is one of the best known ways to use it as well as any tomato sauce, but it is also good with lamb, veal, poultry, fish, any vegetable, pasta, soups, stews, sauces, in salads, steeped in vinegar for excellent marinades and salad dressing. I use basil in any dish that has tomatoes in it (Spanish rice, chicken soup, spaghetti sauce, etc.), broiled tomatoes, BLT sandwiches, marinated tomatoes, salads, meat loaf, Cherries Jubilee (cinnamon basil), grilled pork chops, Pesto, basil fettuccini, Opal basil vinegar, just to name a few.
PESTO FOR PASTA
2 cups fresh basil leaves stripped from their stems, and tightly packed OR use 1 cup each basil and Italian parsley
2 Tablespoons freshly chopped pine nuts
1 teaspoon salt
1 to 2 teaspoon finely chopped garlic
1/2 teaspoon freshly ground black pepper
1 to 1 1/2 cups olive oil
1/2 cup freshly grated imported sardo, Romano or Parmesan cheese
Put all ingredients in a blender or food processor except olive oil and blend. Gradually add olive oil and blend until you have a thick sauce. Toss on hot pasta, put a tablespoon or so in soup, put under skin of chicken breast and bake or spread on French bread and broil lightly. For winter use, freeze Pesto in small jars. (makes 1 1/2 to 2 cups)
TORTELLINI SALAD with PESTO
8 ounces Fresh tortellini
1 can pitted ripe olives, drained
8 cups mixed greens
3/4 cup pine nuts, lightly toasted
4 ounces Freshly grated Parmesan cheese
2 cups fresh vegetables – carrots, radishes, celery, pea pods
Pesto (already made or make your own):
2 cups firmly packed fresh basil leaves, washed and drained
1/2 cup parsley (Italian or flat leaf has more flavor)
3 cloves garlic, peeled
1/4 cup pine nuts, walnuts or pistachios
1/2 cup olive oil
3/4 cup freshly grated Parmesan cheese
salt and pepper to taste
Make Pesto. Cook tortellini according to package instructions. Drain. While still hot toss with pesto, enough to coat. Mix greens, olives, pine nuts and vegetables in a large bowl. Toss in tortellini mixed with pesto and top with Parmesan cheese.
FOCACCIA SANDWICHES WITH GRILLED VEGETABLES
1 loaf focaccia bread, sliced horizontally
4 roma tomatoes, halved lengthwise
2 medium bell peppers, any color, quartered lengthwise
2 small zucchini or yellow squash
1 medium to large onion, sliced
1 large portabella mushroom, sliced
Any thin sliced Deli meat if desired
1/2 cup Pesto
6 to 8 large basil leaves
MARINADE:
1/4 cup herbal vinegar
1/2 cup olive oil
3 Tablespoons honey
1 – 2 cloves garlic, minced
1 teaspoon freshly chopped oregano, basil and/or thyme
Put all cut vegetables in a shallow pan. Whisk all marinade ingredients in a bowl and pour over vegetables. Refrigerate for 30 minutes. Grill all vegetables (put onions on aluminum foil to cook) on an outside grill over medium heat basting on any extra marinade. While vegetables are grilling, slice bread and cut into six to eight sandwiches. Spread on both sides of each sandwich a little Pesto. Put on any meat (leave off if vegetarian sandwiches are desired). When grilled vegetables are done, layer them on the sandwiches. Wrap up sandwiches. Refrigerate until ready to pack cooler. Right before serving open sandwiches and put on basil leaves.
FRESH TOMATO SAUCE
1 Tablespoon olive oil
1/2 cup white wine (Chardonnay is good)
1 – 2 cloves garlic – minced
4 ounces reduced fat cream cheese
6 roma tomatoes – squeezed and chopped
6 – 9 basil leaves – chopped
Put oil in fry pan and sauté garlic in oil. Add tomatoes (skins, seeds and all) and wine. Cook to reduce moisture until sauce type consistency. Add cream cheese and stir until melted and smooth. Remove pan from heat and add basil and serve immediately over hot pasta.
BROILED TOMATO
Slice tomato in half cross-wise and set on small broiler pan. Put 1/2 to 1 teaspoon soft butter on each half. Sprinkle with Parmesan cheese. Place a large basil leaf on top of the cheese and sprinkle with a little more cheese. Place under the broiler (about 4″ from unit) and broil until cheese is bubbling and golden brown.
MOZZARELLA TOMATO SALAD
Shred lettuce and put a layer on each individual 8 inch plate. Slice medium tomatoes and distribute them on lettuce using 5 or 6 slices of tomato on each plate (cherry tomatoes work well also, just cut in half). Slice mozzarella cheese 1/8 inch thick and place on top of tomatoes. Place basil leaves on the cheese and drizzle with olive oil and Opal Basil Vinegar that you have mixed together in a small dish in the proportions you like.
ZUCCHINI GRATIN
2 large zucchini, cut into 1/2 inch thick slices
1 medium yellow squash, cut into 1/2 inch thick slices
3 small tomatoes, cut into wedges
1 clove garlic, crushed
3 Tablespoons olive oil
2 Tablespoons bottled jalapeno pepper sauce
1 Tablespoons. fresh chopped basil
1 teaspoon salt
1/4 cup grated Parmesan cheese
Preheat oven to 425 F. In a 2-quart casserole, toss zucchini, squash, tomatoes, garlic, olive oil, jalapeno sauce, basil and salt until well mixed. Sprinkle with Parmesan cheese. Bake 30 minutes until vegetables are tender. Serve warm or cold.
PESTO-PROVOLONE TERRINE
1 – 8 ounce package cream cheese, softened
1/2 cup basil pesto or dried tomato pesto
6 slices thinly-sliced provolone cheese (about 6 ounces)
fresh basil leaves for garnish, if desired
thin baguette slices, toasted if desired or crackers
Line a 7 1/2 x 3 1/2 x 2 inch loaf pan with plastic wrap, extending wrap beyond edges of pan; set aside. In a medium mixing bowl beat cream cheese and pesto with an electric mixer on medium speed until smooth. Lay 2 slices of the provolone cheese in bottom and slightly up sides of pan. Spread half of the pesto mixture on cheese layer. Repeat layers; top with remaining 2 slices of provolone cheese. Cover surface with plastic wrap. Weigh terrine down with a can of soup or vegetables. Chill overnight.
To serve, remove plastic wrap from top of terrine. Invert onto a serving plate and remove plastic wrap. Cut terrine lengthwise in half and crosswise into ½ inch thick slices. Serve with baguette slices or crackers. If desired, garnish individual servings with basil leaves. Makes 24 to 28 servings.
BASIL JELLY
3 cups apple juice
1/4 to 1/2 cup fresh basil, chopped or 2 Tbsp. dried
2 Tbsp. vinegar
3 to 3 1/2 cups granulated sugar
1/2 cup liquid pectin
Fresh basil sprigs
Bring 1 cup of apple juice to a rolling boil, pour over basil and let stand 20 minutes. Strain into a large saucepan. Add vinegar, the remaining 2 cups of apple juice and any food coloring if desired. Mix in sugar and bring to a boil. Stir in pectin and boil 1 minute more. Remove from heat and skim off foam. Pour into hot, sterilized pint or half-pint jars. Add a sprig or few leaves of the herb on top or immerse in the jelly. Hot water bath to seal jars.
CINNAMON BASIL CHERRIES JUBILEE
2 one-pound cans dark sweet cherries, drained, with syrup reserved
1/2 cup brandy
6 to 8 sprigs cinnamon basil (about 1/4 cup leaves), tied in a bundle
4 Tablespoons kirsch
1 Tablespoon cornstarch mixed with 1 Tablespoon cold water Cinnamon basil sprigs
Vanilla ice cream
In a small saucepan, combine the cherry syrup and the bundle of cinnamon basil. Bring to a simmer over moderate heat. Add the cornstarch-water mixture to the simmering liquid and cook, stirring constantly, until the sauce comes to a boil and thickens slightly. Remove from the heat and let cool to room temperature. Remove the cinnamon basil, cover the sauce tightly, and set aside.
Place a decorative chafing dish over medium heat. Add the cherries and stir until heated. Carefully pour the brandy into the dish, let the brandy warm a few seconds, and then ignite it with a match. Gently baste the cherries with the brandy until the flame dies. Stir in the reserved cherry sauce and kirsch and heat until just warm. Serve over the Cinnamon Ice Cream. Garnish each dish with cinnamon basil sprigs.
PANSY SORBET
3 1/2 cups water
1/2 cup sugar
1 cup dark purple pansies, loosely packed
1/4 cup opal basil leaves
2 Tablespoon freshly-squeezed lemon juice
Put pansies and basil in food processor with sugar and pulse until flowers and leaves are pulverized. Bring water to a boil, remove from heat and add pansy mixture and stir until sugar is dissolved. Cover and let stand at room temperature for at least one hour. Strain pansies out of liquid squeezing them to get all the color out, then discard solids. Add the lemon juice and chill. Put into dishes that came with your ice shaver and freeze. Shave frozen mixture and put into chilled dishes and put back into the freezer until ready to serve.
BASIL or MINT SORBET makes about 2 pints, or 5 cups 2 1/2 cups water
1/4 cups sugar
4 Granny Smith apples, peeled, cored, and diced
2-3 cups packed basil or mint leaves, plus 1/4 extra for garnish.
1/2 cup apple juice
3/4 cup freshly squeezed lemon juice
In a medium saucepan, bring 2 1/2 cups water and the sugar to a boil. Add the apples, and simmer over medium-low flame for about 2-3 minutes, or until apples easily break apart with a wooden spoon. Add the basil leaves. Cover, remove from heat, and allow to rest for 10 minutes. Place the mixture in a blender and blend until smooth. Strain through a fine sieve into a metal bowl, stir in the lemon juice, and allow to cool in refrigerator, or over a larger bowl of ice water.
Pour mixture into the bowl of an ice cream maker and freeze according to the manufacturer's instructions. When sorbet is frozen (it will still seem quite soft), transfer to a storage container, cover tightly and freeze until ready to serve.
Before serving, garnish with a chiffonade of basil or mint leaves.